Welcome to Hospitality Resource Group!
Hospitality Resource Group, Inc. (HRG) is a group of 3 vertically integrated companies, with over 20 years of experience partnering with clients to develop innovative training, event management and marketing communication solutions.
HRG clients benefit from our proven ability to develop effective management solutions to expand their markets and engage their companies to build brand equity, increase sales and improve productivity. We have earned a reputation as a market leader by working in close partnership with small businesses, corporations, education institutions, not-for-profit and business organizations, and municipalities.

Having worked closely with Hospitality Resource Group for many years on a wide variety of high profile events, it's easy to see how they've earned such a stellar reputation. HRG is a preeminent event management company, and I would highly recommend them to any organization in need of expert planning, hands-on management and creative marketing of a special event. -Laurence P. Gottlieb, President & CEO, Hudson Valley Economic Development Corporation
---
---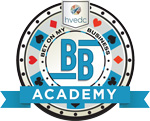 HRG and the Hudson Valley Economic Development Corporation have developed a partnership to help local food and beverage industry entrepreneurs learn how to market their goods and services to larger hospitality companies. Now in its second year, this innovative training initiative is offered to area businesses through the Hudson Valley Food & Beverage Alliance.

Learn More

HRG has earned widespread recognition from leading industry organizations, including: