HRG Testimonials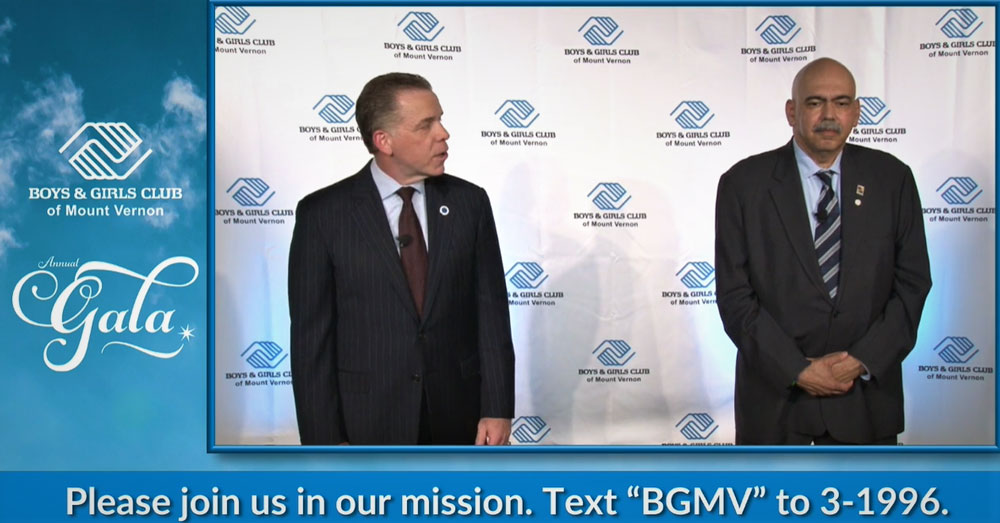 "When the pandemic hit, we had to evaluate our options to host our gala event on a virtual platform, and there were a lot of issues to consider, from maintaining our donors and sponsors, to the logistics, tech and communication. And when it came time to decide who we would work with in planning and producing an event like this, we turned to our trusted partners at HRG, Corporate AV and MackTeck Solutions. And the results exceeded our expectations, as the program was polished, totally professional, and, most importantly - we generated the highest net income from an event in our Club's history. I would highly recommend these partners to anyone looking to develop an event of any kind!"
Mel Campos, Chief Professional Officer, Boys & Girls Club of Mount Vernon
"The HRG team was extremely responsive to our needs in working with us to plan, produce and manage our annual recognition and colleague event. They were totally committed to our success from the outset and worked closely with our team as a true partner to achieve our event goals. I would highly recommend HRG to any organization looking for a strategic event partner!"
Marissa Weidner, Director of Talent Strategy, Culture & Communications, FVP,
Sterling National Bank
"When Volunteer New York! and the Westchester Community Foundation were looking for an experienced partner to work with us on the conception and launch of our pilot Next Generation Nonprofit Board Boot Camp, we turned to Hospitality Resource Group's Event Solutions team.
HRG's perspective and event management tools helped us introduce a record number of business professionals and engaged community leaders to the value of serving on a board. As a result, we were able to double the number of nonprofits and prospects we identified to participate in our Board Speed Dating event, and have confirmed new board commitments. We would recommend anyone looking to generate a greater ROI and improve their event planning consider HRG."
Alisa H. Kesten, Executive Director, Volunteer New York!
"Hospitality Resource Group has been a tremendous asset to our entire organization, sharing our commitment to customer service, and a strict attention to detail in everything we do. From strategic planning and customized training programs through Strategic Training Solutions, to high profile events produced and managed by Event Solutions, HRG has been a trusted partner in positioning our brand, here in Westchester and beyond."
Dan Conte, General Manager, Westchester Marriott
"I have come to appreciate the work of Hospitality Resource Group as valuable partners. We know we can always count on them to be there for us, helping to plan events and create marketing and PR for The Opus Foundation, and for our firm. They are totally committed to quality in everything they do, and somehow exceed our expectations -year after year.
We look forward to continuing our outstanding relationship with HRG, and would highly recommend them."

Michael Perry, Partner, Opus Advisory Wealth Management
"Thank you for an excellent event. What a great day of knowledge, networking, food and drink! HRG runs a top notch show. I made many good connections and feel privileged to have been invited."
Mary T. Rahe, Director of Development, New York School for the Deaf
"I am always inspired by engaging with other non-profits and consultants willing to share their knowledge. This year's program brought together outstanding and enthusiastic speakers with expertise for handling current challenges relevant to any organization. We all gained new tools and information that can help us be more effective and strategic leaders. I am already looking forward to next year."
Sue Dishart, VP Marketing, Guiding Eyes for the Blind
"Strategic Training Solutions has been a tremendous asset to me and our HR and Talent Development team at Pernod Ricard Americas Travel Retail. Working closely with us as a training and human resources partner, STS has developed an in-depth understanding of the needs, goals, and objectives of our organization. We have partnered with STS on a number of important human resources and organizational development initiatives, including our World Class Talent Initiative, writing job descriptions and competencies, talent selection, designing and facilitating meetings, and other projects and activities. We truly value our partnership with STS, and look forward to working together in the future."
Lani Montoya, Vice President, Human Resources, Pernod Ricard Americas Travel Retail