A joint venture with Entergy, "Planning Ahead" is your source for upcoming not-for-profit events, philanthropic and sponsorship opportunities and much more.
"With Westchester's prolific not-for-profit, business, cultural and arts community, there's always something going on – annual meetings, gala events or that last golf outing of the season," said Ken Theobalds, Director of Governmental Affairs for Entergy. "Navigating this busy business and social scene is almost impossible.
'Planning Ahead' provides a calendar of major events and sponsorship opportunities, with insightful comments from community and business leaders, as well as helpful marketing and branding tips for making the most of your next event. It's a great tool for planners, marketers, community relations professionals and those executives involved in corporate philanthropy."
A date conflict can be a huge hurdle to overcome. For not-for-profit leaders, development officers, and special events planners, "Planning Ahead" offers essential information for organizing and promoting successful major benefits.
The "Planning Ahead" master calendar is an invaluable resource for planners and the public to help avoid scheduling conflicts and assure that we al work together to keep our charities thriving.
Referencing "Planning Ahead" when you are booking your next event is an easy step towards securing the success of your event.
Every month, "Planning Ahead" highlights a different organization to promote their mission. It also features insights on ways you can get involved, maximizing giving opportunities, tips for the event planner and sponsor, corporate giving strategies— all the information you need today to make informed decisions about tomorrow's business and philanthropy opportunities.
"Planning Ahead" is published monthly in the Westchester County Business Journal and can be can be viewed at all times right here.
Photo Gallery: 11th Annual Not-for-Profit Educational Leadership Summit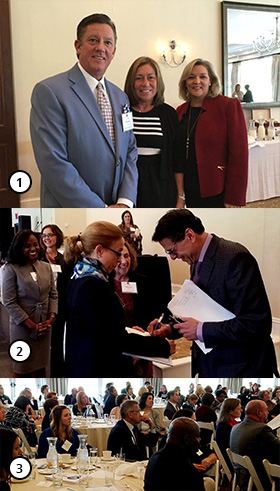 (L to R) Robert Sanders, Partner, HRG; Deb Fay, Entergy, and Jane Solnick, Con Edison, at our 12th Annual NFP Educational Summit
Ralph Trombetta, Sr. Strategist, Blue Ocean Strategy/Managing Partner and Founder of Value Innovation Associates
2017 HRG Educational Summit attendees
Nonprofit Westchester:
Nonprofits Strengthening The Nonprofit Sector

You already know that there are hundreds of Westchester nonprofits that strive to provide the tools and resources for everyone to reach their potential and contribute fully to our community throughout their life. These organizations operate with professionalism and high standards despite limited resources. Thankfully, there is a network of nonprofits whose mission is to strengthen the nonprofit sector.
Mobilizing Volunteers
Last year, Volunteer New York! mobilized over 20,000 people of all ages and skill sets who volunteered individually and in groups to help over 500 nonprofits, empowering them to address pressing needs and strengthen nonprofits. That's $8.1 million worth of service to our community. They also cultivate leadership skills and develop community leaders through Leadership Westchester.
People can work hard - even more than full time - and still not have enough food to make it to the next paycheck.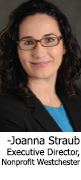 Pro Bono Partnership engages more specialized volunteers in their work providing free business and transactional legal services to nonprofits. They mobilize hundreds of volunteers from corporations and law firms to donate their time to review contracts, craft policies and procedures to prevent common legal problems, offer workshops, and address challenges in areas ranging from human resources to intellectual property and more. Their services save thousands of dollars in legal fees, and prevent many legal headaches.
Skill Building
Professional development is key to a successful workforce, especially in today's dynamic environment. Westchester has several nonprofits that provide training and leadership skill building for nonprofit staff.
These range from professional associations with a particular focus such as the Association of Development Officers and the Association of Fundraising Professionals, to organizations that foster industry specific skills like ArtsWestchester.
Nonprofit Westchester provides both focused, brief learning opportunities through our Affinity Group meetings as well as more in depth seminars through our partnership with Westchester Community College. Recent topics have included social media, implementing the NY Paid Family Leave Act, cybersecurity and public speaking.
Through these capacity building efforts, this special class of nonprofits help keep Westchester thriving.
For more information about Nonprofit Westchester, visit www.npwestchester.org, and follow us on www.Facebook.com/npwestchester and Twitter @NPWestchester.
To post an event click here.
NOVEMBER
Girls Inc. of Westchester County
Established in 2007, Girls Inc. of Westchester County delivers pro-girl programs during and after school at schools and community centers throughout Westchester County. They are the local affiliate of Girls Incorporated, a 150 year old national nonprofit providing more than 140,000 girls across the U.S. and Canada with life-changing experiences and solutions to the unique challenges girls face. Girls Inc. of Westchester County's programs equip girls to navigate gender, economic, and social barriers so they can grow up healthy, educated, and independent. Girls Inc. of Westchester County is celebrating "10 Years of Gratitude" at their Strong, Smart & Bold Gala on Thursday evening, April 12, 2018 at the Doral Arrowwood in Rye Brook. The gala honors notable Westchester women from the worlds of business, politics, philanthropy, entertainment, science, politics, and the arts. Honorees exemplify the Girls Inc. mission by being strong, smart, and bold. The event brings together over 300 people from Westchester and the New York metro area. Guests included influential business professionals, community leaders and philanthropic donors who share their vision of empowered girls in an equitable society. For more information visit www.GirlsIncWestchester.org or call 419-0764.
OCTOBER
Gilchrist Institute
Gilchrist Institute was founded in 1984, a nonprofit mind research and potential development institute.
During this time, we have discovered breakthroughs such as;
The Laws of Potential – By utilizing biological sciences, religious doctrines and math of nature, the institute discovered irrefutable principles of defining potential.
Natural Thinking and Intelligence (NaTI) – Innate behavioral, thinking and achievement systems within the human psyche. There are 3 all-encompassing systems each of us possesses, which contain 13 interconnected intelligences.
Human Character Formula – a simple 3 step formula for analysis of any type of issue. Generates clarity and simplifies decision making. It employs the Laws of Potential. The institute has developed an educational program which is based on Life Skills developed from the Laws of Potential. The program goes into effect this year in a Westchester area college. This will be a model for higher education throughout the country.
For more information visit www.drbobflower.com or call 779-6299.
SEPTEMBER
White Plains Library Foundation
The White Plains Public Library is in the final stages of renovating nearly 40,000 square feet to create the Hub - a new adult library with enhanced technology, flexible workspaces, meeting rooms, local history collection, a Café and much more. Part incubator, part maker's space, part traditional reference library, the Hub will be an exciting destination for residents and business people working in the downtown area. The Hub was funded through a unique public - private partnership. A $1 million commitment, received through an anonymous gift to the Foundation was matched by $1 million in funding from the City of White Plains. Grants from New York State and $500,000 in additional donations to the Foundation are helping to fund the rest of the project. For more information visit https://foundation.whiteplainslibrary.org/ or call 422-1495
AUGUST
Maria Regina High School
Since its founding in 1957, Maria Regina High School has been a distinguished leader in education for young women, providing a rigorous learning environment and strong social and moral guidance in the Catholic tradition. Celebrating 60 years of transforming and empowering the lives of young women, Maria Regina has tapped into the considerable capacity of its students for Scholarship, Service and Spirit. Our graduates attend the best colleges and universities in the nation. This year, members of the Class of 2017 have received 34.7 million dollars in academic scholarships. Maria Regina girls are prepared for the future—college and beyond. The achievements of our outstanding alumnae are a testament to this statement and an endless source of inspiration for our current students. For more information visit www.mariaregina.org.
JULY
Yonkers Partners in Education
Yonkers Partners in Education (YPIE) has been working since 2007 to support students throughout Yonkers and providing resources and opportunities so they may achieve their goals. YPIE's mission is to increase the number of Yonkers Public School students who complete a post-secondary program that prepares them for a successful career. YPIE partners with the Yonkers Public School District, business and philanthropic communities, higher education institutions, and a team of over 200 volunteer mentors and tutors from across Westchester County. We have been a consistent presence committed to creating a college-going culture in a community where 70% of adults ages 25 and over don't have a Bachelor's or advanced degree. We believe that post-secondary success is key to meaningful and lasting improvements in the quality of life for our students and community. YPIE's two signature programs, YPIE Scholars and YPIE Fellows, offer a portfolio of student services geared to increasing academic readiness, college and career access, and college persistence. Our data-driven & individualized approach means more low-income and first generation students can achieve college success. Learn more at www.ypie.org.
JUNE
Arc of Westchester
Arc of Westchester is the largest agency in Westchester County supporting children, teens and adults with intellectual and developmental disabilities, including individuals on the autism spectrum, and their families. Over 800 employees provide more than 2,000 individuals throughout the county with a broad range of innovative and effective programs and services designed to foster independence, productivity and participation in community life. Arc of Westchester was founded in 1949 with a radical idea - that people with developmental disabilities have rights and expectations to make the most of their abilities as citizens of their communities. Our services are based on a lifelong continuum of care and provide the support needed to achieve a life full of distinction and happiness. We focus on individual choice, career goals, future planning, and community inclusion as a basis for our service support. For more information, please visit www.arcwestchester.org
MAY
Legal Services of the Hudson Valley
Legal Services of the Hudson Valley provides provide free, high quality counsel in civil matters for individuals and families who cannot afford an attorney when their basic human needs are at stake. Our dedicated staff of over 130 lawyers, advocates, administrators and support staff – along with more than 300 private attorney volunteers – advances our credo: Protecting Rights, Promoting Justice. Many people think that the right to an attorney is automatic – but the fact is we are not guaranteed legal representation in most civil (non-criminal) matters. That is why LSHV exists – to provide essential legal assistance to those who cannot afford an attorney. With offices in White Plains, Yonkers, Mount Vernon, Peekskill, Poughkeepsie, Kingston, Newburgh, Monticello, and Spring Valley, our attorneys handled more than 15,500 cases impacting more than 36,000 household members in 2016. To find more, please visit our website at www.lshv.org.
APRIL
Westchester Children's Association
Founded in 1914, Westchester Children's Association (WCA) is the leading independent child advocacy organization in Westchester. WCA works to make sure all young people—from newborns to young adults—get what is needed at each stage of development to build a successful life. Our mission is to ensure that every child in every neighborhood is healthy, safe and prepared for life's challenges. WCA finds out what children need. We make their needs known. And we make that sure local programs and policies reflect those needs. We share our in-depth research with the public, build coalitions to find consensus on solutions, and advocate directly to our lawmakers on behalf of kids. We convene partners from all sectors—non-profits, government, education, business and community—to work collaboratively to develop effective responses to the needs of children and youth. Our reputation inspires our partners to join us with confidence and enthusiasm, and we, in turn, are inspired by their committed participation. They know that, when we invest in kids, we invest in the future. For more information visit www.wca4kids.org.
MARCH
GiGi's Playhouse Westchester
Based in Ardsley, NY, GiGi's Playhouse Westchester is a one-of-a-kind achievement center for individuals with Down syndrome, their families, and the community. Our commitment is to offer support from diagnosis to adulthood, build confidence, and to send a global message of acceptance for all. GiGi's Playhouse strives to change the way the world sees Down syndrome. Since opening our doors on August 1, 2015, we have served more than 100 families and continue to grow every day. GiGi's Playhouse offers more than 30 therapeutic and educational programs that advance literacy, math skills, motor skills and more; all of which are free of charge. Our unique points of difference empower individuals and their parents to achieve their greatest potential with confidence, independence, and joy. We will never let cost deter our families from participation or impede the achievement of our children and adults. Every day, GiGi's Playhouse Westchester 'educates, inspires, believes and achieves.' For more information visit www.gigisplayhouse.org/westchester/
FEBRUARY
Girl Scouts Heart of the Hudson
We're the Girl Scouts Heart of the Hudson. We're approximately 30,000 girls and 13,000 adult members strong. And we're part of a nation-wide sisterhood with more than 2.7 million members and 59 million alumnae. We have girls reaching their fullest potential throughout Dutchess, Orange, Putnam, Rockland, Sullivan, Ulster, and Westchester County. While some people still think of us as just cookies, badges, campfires, and friendship bracelets, Girl Scouts are so much more. Girl Scouts are groundbreakers, big thinkers, and role models. Girl Scouts design robots, start garage bands, and improve their communities—and yes, they sell the best cookies on the planet. When she's a Girl Scout, she's also a G.I.R.L. (Go-getter, Innovator, Risk-taker, Leader)™. Today, as yesterday, we continue the Girl Scout mission of building girls of courage, confidence, and character who make the world a better place. "We strive to provide girls with the support and resources they need to become confident independent women", says Erik Anderson, Board President. Fore more information visit www.girlscoutshh.org.
JANUARY
Boys & Girls Club of Mount Vernon
Boys & Girls Club of Mount Vernon has been serving youth for 105 years. In its long and distinguished history the Club has helped produce leaders in business, sports, and entertainment. The Club is committed to continuing its tradition of "GREAT FUTURES START HERE". The Mission of Boys & Girls Club of Mount Vernon is: To enable all young people especially those who need us most, to reach their full potential as productive caring, responsible citizens. The Club was originally a recreational out let for boys, but as the needs of our community increased the Club began to serve girls, in 1991 the Boys Club officially became the Boys & Girls Club. For more information about Boys & Girls Club of Mount Vernon, visit the website bgcmvny.org or contact Chief Professional Officer Mel Campos at 668-9580 or melvinc_2001@yahoo.com.