A joint venture with Entergy, "Planning Ahead" is your source for upcoming not-for-profit events, philanthropic and sponsorship opportunities and much more.
"With Westchester's prolific not-for-profit, business, cultural and arts community, there's always something going on – annual meetings, gala events or that last golf outing of the season," said Ken Theobalds, Director of Governmental Affairs for Entergy. "Navigating this busy business and social scene is almost impossible.
'Planning Ahead' provides a calendar of major events and sponsorship opportunities, with insightful comments from community and business leaders, as well as helpful marketing and branding tips for making the most of your next event. It's a great tool for planners, marketers, community relations professionals and those executives involved in corporate philanthropy."
A date conflict can be a huge hurdle to overcome. For not-for-profit leaders, development officers, and special events planners, "Planning Ahead" offers essential information for organizing and promoting successful major benefits.
The "Planning Ahead" master calendar is an invaluable resource for planners and the public to help avoid scheduling conflicts and assure that we al work together to keep our charities thriving.
Referencing "Planning Ahead" when you are booking your next event is an easy step towards securing the success of your event.
Every month, "Planning Ahead" highlights a different organization to promote their mission. It also features insights on ways you can get involved, maximizing giving opportunities, tips for the event planner and sponsor, corporate giving strategies— all the information you need today to make informed decisions about tomorrow's business and philanthropy opportunities.
"Planning Ahead" is published monthly in the Westchester County Business Journal and can be can be viewed at all times right here.
Spotlight Organization: Arc of Westchester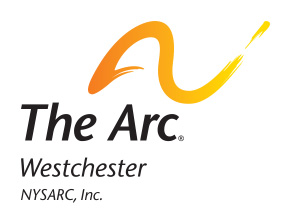 Arc of Westchester is the largest agency in Westchester County supporting children, teens and adults with intellectual and developmental disabilities, including individuals on the autism spectrum, and their families.
Over 800 employees provide more than 2,000 individuals throughout the county with a broad range of innovative and effective programs and services designed to foster independence, productivity and participation in community life.
Arc of Westchester was founded in 1949 with a radical idea - that people with developmental disabilities have rights and expectations to make the most of their abilities as citizens of their communities.
Our services are based on a lifelong continuum of care and provide the support needed to achieve a life full of distinction and happiness. We focus on individual choice, career goals, future planning, and community inclusion as a basis for our service support.
For more information, please visit www.arcwestchester.org
Why Give?

"Arc of Westchester is truly an impressive organization that always turns away from acrimony and turns towards sustainable solutions."

- Laurence P. Gottlieb, President/CEO, Hudson Valley Economic Development Corporation, and recipient of the 2017 Arc of Westchester Share of Voice Award presented at their Annual Employer Recognition Breakfast.
Photo Gallery: Arc of Westchester

Individuals receiving supports throughout an Arc of a life
Nonprofit Westchester:
Want Help Going Green?

Westchester's natural splendor makes it a magnificent place to call home. With 18,000 acres of county parks, and thousands more acres of preserved open land and nature preserves, there is truly a place to get outdoors for everyone. Whether you want to hike, fish, boat, camp, golf, swim, or learn to compost, Westchester offers something for everyone. This is key to attracting employees to the county.
Nonprofits play a vital role in the sustaining these natural resources, both in maintaining the parks and preserves, and in educating and supporting environmental initiatives that protect this legacy.
Going Green
Greenburgh Nature Center, a leader in environmental education, offers programs to teach companies and employees about how they can operate more sustainability at work and at home. They're also developing a new program to train employees and interns to help their companies obtain their Westchester Green Business Challenge Certification so they can operate more sustainably and reduce their carbon footprint.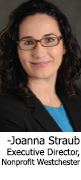 Here are some ways nonprofits help businesses with direct investment opportunities: loans to start-up and emerging businesses that don't have sufficient collateral or future cash flow to be acceptable to institutional lenders for financing; flexible underwriting to make it easier for new businesses that might not be able to the criteria requirements of bank lenders; and serving people who have traditionally not been well served by mainstream financial institutions, including women, minorities and low-income borrowers.
Recreation
Westchester Parks Foundation provides key support to the county operated parks system. When the popular Bicycle Sundays on the Bronx River Parkway were cut from the county budget, the Foundation secured corporate sponsors to keep this program running. They also created the Westchester County Parks Pocket Ranger® App, giving park visitors the ability to track trails (even offline), mark waypoints, find friends and family, and upload pictures of finds.
Revitalization
Groundwork Hudson Valley was instrumental in leading the advocacy effort to daylight the Saw Mill River in Yonkers, a significant part of the revitalization of downtown Yonkers. By removing the parking lot that previously covered the Saw Mill River, this initiative created a public park and recreated 13,775 square feet of aquatic habitat, including a tidal pool and two freshwater pools. Groundwork's leadership and advocacy were instrumental in securing state funds for this project that helped make downtown Yonkers a place that people want to live, work and play.
Whether you want recreational opportunities for your employees, ways to operate more sustainably, or just want a beautiful place to call home, Westchester's environmental nonprofits are key to business success and creating a thriving community for all.
For more information about Nonprofit Westchester, visit www.npwestchester.org, and follow us on www.Facebook.com/npwestchester and Twitter @NPWestchester.
To post an event click here.
JUNE 14
"Meet Your Next CEO"
Benefiting: Youth Shelter Program of Westchester
Panel discussion moderated by John Valverde, CEO of Youth Build USA, Inc. Panelists: Mecca Santana, Esq., V.P. of Diversity & Community Relations, Westchester Medical Center; Dr. Belinda Miles, President of Westchester Community College; Jordyn Lexton, Founder & Executive Director, Drive Change
Time: 8 to 10 a.m.
Location: Whitby Castle, Rye
Ticket Price: $50 per person
Contact: 668-4702 or www.eventbrite.com/meetyournextceo or www.ysow.org
JUNE 15
WEDC's Gala Dinner & Awards Ceremony
Benefiting: Women's Enterprise Development Center Inc.
The WEDC will be celebrating two decades of promoting women's economic empowerment. It is certain to be an exciting evening, celebrating women entrepreneurs.
Honoring: Jean Chatzky, Carol Fishman Cohen & Monica Flaherty
Event Chairs: April Langus
Time: 6 to 9 p.m.
Location: Westchester Marriott, Tarrytown
Ticket Price: $225 per person; sponsorship opportunities available
Contact: April Langus at 391-9867 or april.l@longpointgroup.com
JUNE 17
The Sisterhood of Hip-Hop
Benefiting: ArtsWestchester
Throughout the history of hip hop, female performers and artists have pushed the boundaries and stereotypes of the art form proving that it isn't just a man's world.
Time: 4 to 6 p.m.
Location: 31 Mamaroneck Avenue, White Plains
Ticket Price: $10 per person
Contact: Logan Hanley at 428-4220 or lhanley@artswestchester.org
JUNE 20
Hospice of Westchester's 15th Annual Golf Invitational
Benefiting: Hospice of Westchester
Join us for a day on links complete with brunch, 18 holes of golf, a reception, dinner and awards benefiting Hospice of Westchester.
Time: 10:30 a.m. to 7 p.m.
Location: Westchester Hills Golf Club, White Plains
Ticket Price: $425 per person; sponsorship opportunities available
Contact: Holly Benedict at 682-1484 or hbenedict@hospiceofwestchester.com
JUNE 21
LW20 - Leadership Westchester 20th Anniversary Celebration
Benefiting: Leadership Westchester, A Signature Program of Volunteer New York!
Leadership Westchester is graduating its 20th class of leaders. Join us in celebrating the cumulative impact of Leadership Westchester's nearly 400-strong alumni of leaders on the Summer Solstice!
Event Chairs: Alisa Kesten, Olivia Ecker, Julie Sootin, Angela Taylor, Scott Morrison
Time: 7 to 10:30 p.m.
Location: Zuppa Restaurant & Lounge
Ticket Price: $120 per person; sponsorship opportunities available
Contact: :Allison@volunteernewyork.org or call 227-9307
JUNE 21
Get On Your Mat For Mental Health
Benefiting: The Mental Health Association of Westchester
Welcome summer under the open sky with an outdoor mega-yoga event featuring live music, meditation, mindfulness and more - all for a good cause! Show the world you think #MentalHealthMatters!
Time: 5:30 to 7:30 p.m
Location: Turnure Park, White Plains
Ticket Price: $25 through 6/20 ($30 day of); $15 for little yogis under 12; sponsorship opportunities available
Contact: Connie Moustakas at 265-7511 or visit www.mhawestchester.org/yoga
JUNE 24
10th Annual Run-Walk-Hike
Benefiting: Pulmonary Fibrosis Foundation
Extremely supportive organization that serves as a national voice for the tens of thousands of patients with this fatal disease.
Time: 9:30 a.m. to 12 p.m.
Location: Central Park, New York
Ticket Price: $20 per person; sponsorship opportunities available
Contact: Charlotte Steverson at 747-0519 or events@theeventdepartmentny.com
JUNE 26
Second Annual WPH Mariano Rivera Celebrity Golf Tournament and Dinner Party
Benefiting: White Plains Hospital and the Mariano Rivera Foundation
Join more than 50 sports and entertainment celebrities for a day at one of the top rated golf courses in the nation to benefit White Plains Hospital and the Mariano Rivera Foundation. All foursomes play with one celebrity and include brunch, cocktails, and dinner.
Time: 9:30 a.m. to 9 p.m.
Location: Quaker Ridge Golf Club, Scarsdale and Winged Foot Golf Club, Mamaroneck
Ticket Price: $12,000 for foursome, $225 for Cocktails and Celbrity Dinner; sponsorship and journal opportunities available
Contact: Tricia Laine at 681-2264 or plaine@wphospital.org or visit www.givetowphospital.org
JUNE 26
Planned Parenthood Hudson Peconic Celebrates 30th Anniversary of Dirty Dancing
Benefiting: Planned Parenthood Hudson Peconic
Join PPHP and celebrate the anniversary of this classic summer time movie. Tickets are limited!
Time: 7:30 to 10:30 p.m.
Location: Jacob Burns Film Center, Pleasantville
Ticket Price: $13 per person
Contact: Leila Ensha at 467-7311 or leila.ensha@pphp.org
JUNE 27
Cerebral Palsy of Westchester 16th Annual Golf Classic
Benefiting: Cerebral Palsy of Westchester
Corporate sponsors and players will enjoy a day of golf followed by dinner, raffle, silent auction, and presentation of tournament winners.
Time: 11 a.m. to 9 p.m.
Location: Quaker Ridge Golf Club, Scarsdale
Ticket Price: $695 per person; sponsorship and journal opportunities available
Contact: Joan Colangelo at 937-3800
JUNE 29
PPHP Comedy Night
Benefiting: Planned Parenthood Hudson Peconic
Looking for a fun night out? Need a good laugh? Join for a Comedy Night and cocktail reception.
Time: 7:30 to 10:30 p.m.
Location: Jacob Burns Film Center, Pleasantville
Ticket Price: $13 per person
Contact: Leila Ensha at 467-7311 or leila.ensha@pphp.org