A joint venture with Entergy, "Planning Ahead" is your source for upcoming not-for-profit events, philanthropic and sponsorship opportunities and much more.
"With Westchester's prolific not-for-profit, business, cultural and arts community, there's always something going on – annual meetings, gala events or that last golf outing of the season," said Ken Theobalds, Director of Governmental Affairs for Entergy. "Navigating this busy business and social scene is almost impossible.
'Planning Ahead' provides a calendar of major events and sponsorship opportunities, with insightful comments from community and business leaders, as well as helpful marketing and branding tips for making the most of your next event. It's a great tool for planners, marketers, community relations professionals and those executives involved in corporate philanthropy."
A date conflict can be a huge hurdle to overcome. For not-for-profit leaders, development officers, and special events planners, "Planning Ahead" offers essential information for organizing and promoting successful major benefits.
The "Planning Ahead" master calendar is an invaluable resource for planners and the public to help avoid scheduling conflicts and assure that we al work together to keep our charities thriving.
Referencing "Planning Ahead" when you are booking your next event is an easy step towards securing the success of your event.
Every month, "Planning Ahead" highlights a different organization to promote their mission. It also features insights on ways you can get involved, maximizing giving opportunities, tips for the event planner and sponsor, corporate giving strategies— all the information you need today to make informed decisions about tomorrow's business and philanthropy opportunities.
"Planning Ahead" is published monthly in the Westchester County Business Journal and can be can be viewed at all times right here.
Spotlight Organization: Maria Regina High School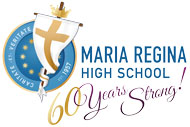 Since its founding in 1957, Maria Regina High School has been a distinguished leader in education for young women, providing a rigorous learning environment and strong social and moral guidance in the Catholic tradition.
Celebrating 60 years of transforming and empowering the lives of young women, Maria Regina has tapped into the considerable capacity of its students for Scholarship, Service and Spirit. Our graduates attend the best colleges and universities in the nation. This year, members of the Class of 2017 have received 34.7 million dollars in academic scholarships. Maria Regina girls are prepared for the future—college and beyond. The achievements of our outstanding alumnae are a testament to this statement and an endless source of inspiration for our current students.
This year, we celebrate our commitment to continue our "60 years strong mission". Our Diamond Anniversary Gala will be held at the VIP Country Club in New Rochelle, NY on October 20, 2017. Award winning journalist and proud Alumna, Mary Calvi, will serve as the evening's Mistress of Ceremonies. The Honorees include the Sisters of Resurrection for all they have done to educate and enrich the lives of intelligent and talented Catholic girls for six decades. Also recognized will be Mr. David Pope of the Generoso Pope Foundation and Mr. Neil Clark, SVP for Fidelity National Title Insurance Company, for their outstanding leadership and support of Maria Regina High School.
Why Give?

"As a 1975 graduate of Maria Regina High School, the four years I spent there prepared me well for my future and enabled me to develop into the woman I am both personally and spiritually. My experience at this remarkable school led me to entrust the education of my two daughters to Maria Regina. Their high school experience empowered and inspired them to become strong, successful women as well. Maria Regina has shaped the future of thousands of girls and is an institution to be recognized as a stronghold of scholarship and a jewel in the community".

- Luanne Diecchio,Chairperson, MRHS Trustees
Click here to view photos from Maria Regina High School
Nonprofit Westchester:
Nonprofits Power The Vote

Westchester residents, like much of the country, vote at appallingly low rates. Roughly half of the county's residents are registered to vote, and of those, only a third turn out and vote in off-year elections.
This means that important county decisions are being made by less than 20% of the population.
Nonprofits can be a key part of the solution. Recent studies show that nonprofits are trusted ambassadors for voter engagement. People are much more likely to vote when someone from a nonprofit organization they know encourages them.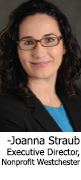 Many of our members have signed on to actively encourage people to vote in 2017. They're helping people register, asking them to pledge to vote, and sending them voting reminders.
To be crystal clear, this is not about partisan politics. No one is even hinting that people should vote for any particular party or candidate.
The goal is to get people involved in the process, giving them a voice in their community.
To learn how to register to vote, when and where to vote, or to join the effort, visit 914NonprofitsVote.org.
For more information about Nonprofit Westchester, visit www.npwestchester.org, and follow us on www.Facebook.com/npwestchester and Twitter @NPWestchester.
To post an event click here.
SEPTEMBER 11
5th Annual Golf & Gala
Benefiting: Greenburgh Nature Center
A unique outing with Greenburgh Nature Center's mission in the spotlight. A great day of golf includes lunch and prize opportunities. The day concludes with our Gala featuring a silent auction.
Honoring: Bennett Fradkin and O'Melveny & Myers
Time: 10:30 a.m to 8 p.m.
Location: Scarsdale Golf Club
Ticket Price: $450 for Golf & Gala, $125 for Gala only; journal opportunities available
Contact: Margaret Tjimos Goldberg at 813-1837 or visit www.greenburghnaturecenter.org 

SEPTEMBER 11
YMCA of Central & Northern Westchester 2017 Golf Outing
Benefiting: YMCA of Central & Northern Westchester
Join YMCA as they enjoy a great day of golf, good food, and help raise funds for their Annual Campaign to make a difference.
Time: 10:30 a.m. to 7 p.m.
Location: Knollwood Country Club, Elmsford
Ticket Price: $375 per golfer, $100 per person for cocktail/dinner only; sponsorship opportunites available
Contact: Stephanie Rooney at 287-2021 or visit www.ymca-cnw.org
SEPTEMBER 13-17
2017 Jazz Fest
Benefiting: ArtsWestchester
Returning to the city of White Plains for its sixth year, the 2017 Jazz Fest promises to be a five-day celebration of jazz for music lovers of all ages. A partnership between ArtsWestchester, the City of White Plains and the White Plains BID, Jazz Fest has become a signature White Plains event of free and affordable jazz performances attracting jazz enthusiasts from throughout Westchester County and beyond.
Time: Varies on event
Location: Downtown White Plains
Ticket Price: 20 - $29 per ticket, other concerts are FREE
Contact: www.artswestchester.org/programs/2017-jazz-fest 
SEPTEMBER 14
Yonkers Partners in Education 10th Anniversary Gala
Benefiting: Yonkers Partners in Education
Yonkers Partners in Education will hold its 10th Anniversary Gala to support its work helping students in the Yonkers Public School District achieve the dream of college and career.
Honoring: David Westin
Time: 6 to 8:30 p.m.
Location: Lyndhurst, Tarrytown
Ticket Price: $300 per person; sponsorship and journal opportunities available
Contact: Anna Birrittella at 377-4882 or visit www.ypie.org/gala
SEPTEMBER 17
White Plains Jazz and Food Festival
Benefiting: ArtsWestchester
Join us for Jazz Fest 2017 at the Main Stage on Mamaroneck Avenue, White Plains, NY Featuring a full day of concerts by: SUNY Purchase Jazz All-Stars, Kenny Lee All Stars, Steve Kroon Latin Jazz Sextet
Time: 12 to 5:30 p.m.
Location: Mamaroneck Avenue, White Plains
Ticket Price: Free; Sponsorship opportunities available
Contact: Mary Alice Franklin at 428-4220 or visit www.artsw.org/jazzfest
SEPTEMBER 17
Founder's Dinner
Benefiting: New York Medical College
Always a highly anticipated occasion for the NYMC community, this year's event promises to be a fantastic gala. With the ongoing growth of the College and the ever-present excitement about the future, it is truly a time to celebrate. Once again they will be honoring members of the NYMC community for their outstanding contributions and their dedication and service to NYMC. Help celebrate their accomplishments by enjoying an evening of good food, music and friends.
Honoring: Dr. Mark Hasten; Robert G. Lerner, M.D.; Robert J. Lifton, M.D. '48; and Ira Schwartz, Ph.D.
Time: 5 to 9 p.m.
Location: DoubleTree Hotel, Tarrytown
Ticket Price: $700 per person, $350 for alumni; sponsorship and journal opportunities available
Contact: Hospitality Resource Group at 761-7111 or visit www.nymc.edu/foundersdinner 
SEPTEMBER 18
Putnam Best Chefs and Fine Wine
Benefiting: United Way of Westchester and Putnam
Come join United Way to sample signature dishes from the reign's best restaurants. You can enjoy great wines and microbrew beers at the newly renovated Putnam County Golf Course.
Time: 6 to 8 p.m.
Location: Putnam County Golf Course, Mahopac
Ticket Price: $60 per person
Contact: Peter West at 997-6700 or visit www.uwwp.org/bestchefs.shtml 
SEPTEMBER 18
Annual Golf Outing & Dinner
Benefiting: Boys & Girls Club of Mount Vernon
Enjoy a day of golf and support the Boys & Girls Club of Mount Vernon in its mission to enable all young people to reach their full potential as productive, caring, responsible citizens.
Honoring: Mike Phillips
Time: 10:30 a.m to 8 p.m.
Location: Westchester Hills Golf Club, White Plains
Ticket Price: $400 per golfer, $125 for dinner only; sponsorship and journal opportunities available
Contact: Hospitality Resource Group at 761-7111 or Tricia@HRGinc.net 
SEPTEMBER 19
Movers & Shakers: Turning Up the Heat
Benefiting: YWCA of White Plains and Central Westchester
The event will feature female chefs and mixologists from Westchester County who will come together, for one night only, to cook for a cause.
Time: 6:30 to 9:30 p.m.
Location: Activity Center, 515 North Street, White Plains
Ticket Price: $75 per person; sponsorship opportunities available
Contact:  The Event Department at 747-0519 or visit www.ywcawpcw.org/content/movers-and-shakers 
SEPTEMBER 28
Hospice of Westchester's "In Celebration" Gala Cocktail Reception
Benefiting: Hospice of Westchester
In celebration of the organization's 25th anniversary, the annual fundraiser will feature special guest speaker Stone Philips, an Emmy-Award winning News Anchor & Correspondent. Celebrating Hospice of Westchester's patients and their families; Hospice of Westchester's exceptional and compassionate Staff and Volunteers. "In Celebration" will also celebrate the life of Anna L. Shereff.
Time: 5:30 to 7:30 p.m.
Location: Westchester Country Club, Rye
Ticket Price: $300 per person; sponsorship and journal opportunities available
Contact: Holly Benedict at 682-1484 ext. 122 or visit www.hospiceofwestchester.com
SEPTEMBER 28
United Hebrew Autumn Celebration
Benefiting: United Hebrew of New Rochelle
Enjoy a spectacular autumn evening filled with cocktails, entertainment, gourmet food, and good friends at United Hebrew's 97th Anniversary Gala.
Honoring: Rosemary McLaughlin, Senior Vice President/Group Director; Signature Bank, United Hebrew Board of Directors; Harrison Edwards, Inc. (Carolyn Mandelker, President, Bob Knight, Executive Vice President) Sigma Care (accepted by Howard Hamilton, Customer Success Manager)
Time: 6 to 9:30 p.m.
Location: Glen Island Harbour Club, New Rochelle
Ticket Price: $400 per person; sponsorship and journal opportunities available
Contact: Grace Ferri at 632-2804 or visit www.unitedhebrewgeriatric.org